STABICA – Lightweight and Warm Fireplace Insert System
Stabica® is an innovative system for constructing lightweight and warm fireplace enclosures. With it, the heat from the fireplace is accumulated within the enclosure and then radiated into the room for several hours after the fireplace has extinguished. This is a natural, healthy, and cost-effective way to heat your home.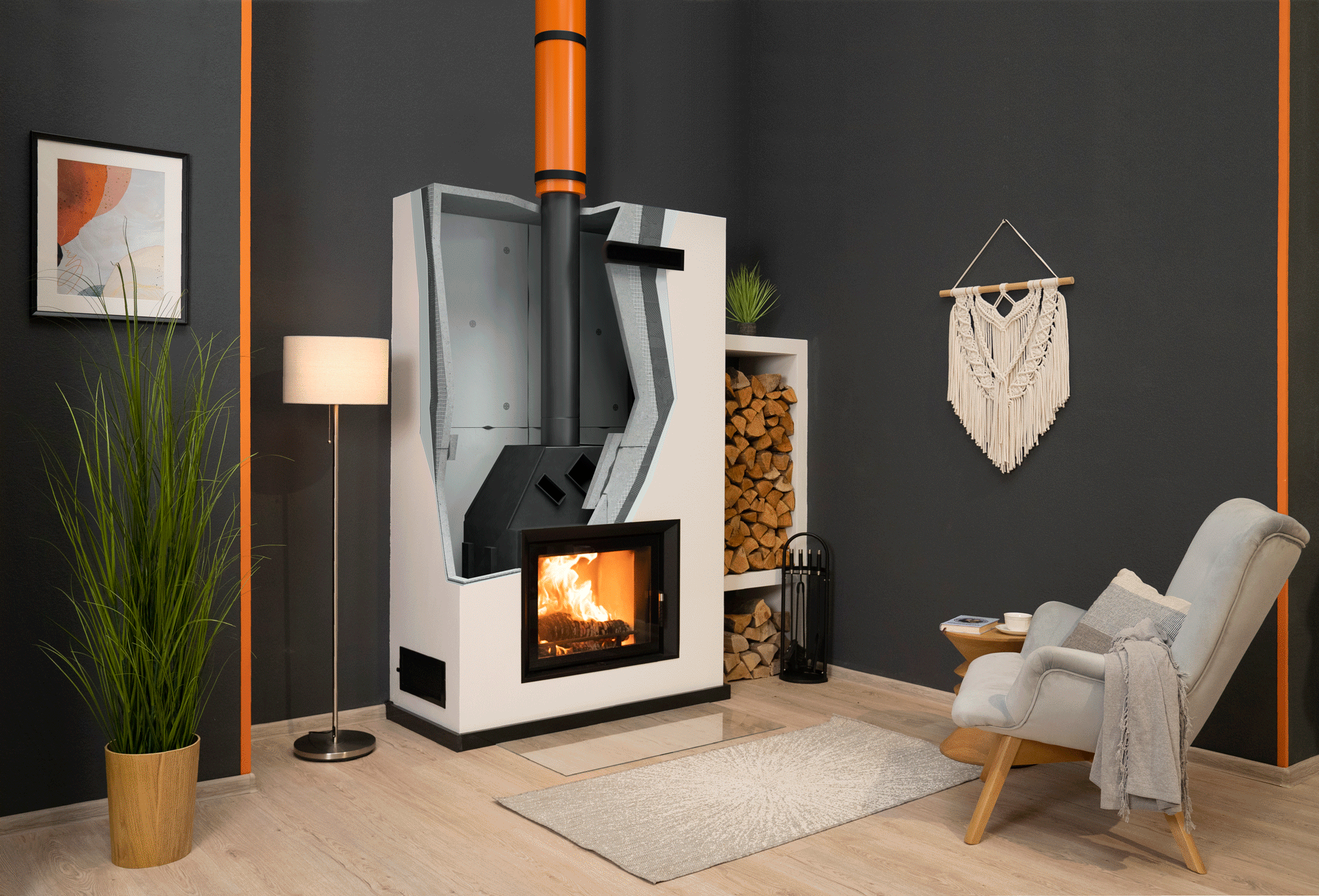 10 Reasons Why It's Worth Having a Stabica Fireplace Enclosure:
RESIDENTS' COMFORT
A fireplace enclosure made from STABICA® LC600 fireplace panels is a unique solution that ensures user comfort. The heat from the fireplace is released into the room not only through convection but primarily through radiation, which positively impacts our health and well-being. The fireplace remains warm and continues to heat the room for several hours after it has completely extinguished. Radiant heat is perceived as very pleasant and cozy because, unlike convection heating, which focuses on heating the air, it primarily warms our bodies and objects in the room. This means you don't have to wait for the air to heat up to feel warm, and the heat itself is evenly distributed throughout the room, enhancing overall comfort.
APPRECIATED BY INSTALLERS
STABICA® fireplace enclosures are lightweight and easy to install, allowing for a quick fireplace construction in your home. Installation does not require specialized tools, making it hassle-free for installers. The ease of cutting and the rigid panel structure offer ample possibilities for even the most intricate fireplace enclosure designs.
NATURE-FRIENDLY PRODUCT
STABICA® LC600 fireplace panels are made from natural ingredients, ensuring ecological and user safety. Over 50% of the materials used in production come from recycling. The production process is low-emission and characterized by extremely low energy consumption. All these factors make STABICA® LC600 fireplace panels environmentally friendly.
CARE FOR HEALTH AND SAFETY
The interior of STABICA® fireplace enclosures is smooth and dust-free. Radiant heat distribution is one of the healthiest ways to heat spaces because it doesn't dry out the air or introduce dust, viruses, and bacteria. In contrast to convection heating, where the air is heated and rises, radiant heat spreads through radiation, warming other objects in the room, including our bodies.
SAVINGS IN MONEY AND ENERGY
A STABICA® fireplace enclosure is a solution that promotes energy savings, thanks to the radiant release of heat from the enclosure, which continues for several hours after the fireplace has completely extinguished. This allows you to utilize the previously accumulated heat for a longer duration and more efficiently, leading to a reduction in your home heating costs.
FREEDOM IN DESIGN
The STABICA® warm fireplace enclosure system allows for the creation of nearly any fireplace design that suits your room's style. Whether you want to build a freestanding fireplace, a corner installation, or a wall-mounted one, with or without a wood storage shelf, it's all possible with us. With our system, you'll have the freedom to design your fireplace, resulting in a harmonious interior decor.
RESISTANT TO CRACKS AND DISTORTIONS
STABICA® fireplace enclosures, thanks to their properties, are resistant to damage and distortions that can result from significant temperature variations to which fireplace enclosures are subjected during the fireplace's operation.
HIGH QUALITY
Thanks to our experience and determination, after several years of research and development, we have created innovative and, most importantly, environmentally friendly STABICA® LC600 fireplace panels. These panels, with their unique properties, effectively accumulate heat and distribute it evenly into the room through gentle radiation.
COMPLIANCE WITH STANDARDS
STABICA® fireplace enclosures are a system that meets the highest standards of quality and safety in accordance with Polish and international norms. As a result, users can enjoy their fireplace without any safety concerns.
MADE IN POLAND
STABICA® LC600 fireplace panels are a Polish product known for their top-quality craftsmanship and the use of technology based on natural ingredients. By choosing STABICA® products, you are supporting a Polish product, contributing to the domestic economy, and enhancing the prestige of the Polish brand in both domestic and international markets.

GET IN TOUCH WITH US – WE'D BE HAPPY TO ASSIST YOU IN FINDING A FIREPLACE SHOWROOM FEATURING OUR PRODUCTS IN YOUR AREA.
Do you have any questions?
Feel free to write or give us a call!
Choose your preferred method of contact.
WRITE AN EMAIL
office@stabica.com
GIVE US A CALL
+48 663 777 103
Headquarters ADDRESS in Poland
Stabica Sp. z o.o.
Ul. Płocka 81A,
32-543 Myślachowice, Poland
CONTACT FORM
We will get in touch with you as soon as possible.